Binogi's Digital Engagement Project
Education for all from day one
Waterloo Catholic District School Board (WCDSB) is the first school board in Canada to partner with Binogi
In this ERGO webinar, WCDSB teachers share their experiences using Binogi. Learn how Binogi makes learning opportunities more accessible to students at school and at home.
Collaborate with Binogi on the development of a digital learning platform in mathematics and science
Binogi's Digital Engagement Project (BDEP) is a multi-year collaborative project between Binogi and participating Canadian school boards. It aims to develop the best possible digital and multilingual teaching and learning materials for all students and educators.
Participating school boards will receive:
Full access to the video lessons in English for intermediate division students in all schools for three years

Full access to the entire language package

Full access to the teacher site

Webinars as well as opportunities to network and share experiences with other teachers. Feedback is used to refine the project and content

Access to our research partners and experts
Multilingual learning materials enable equitable and inclusive learning opportunities for all students. Binogi provides a multilingual digital learning platform that allows students to learn and engage in subject specific content, regardless of their fluency in the language of instruction. The mother tongue is considered a resource and language is a scaffold for conceptual development. Binogi strives to make education accessible to all students.
Does your school board want to participate? Or do you want more information?
Contact us to find out more about how to partner with Binogi through our Digital Engagement Project.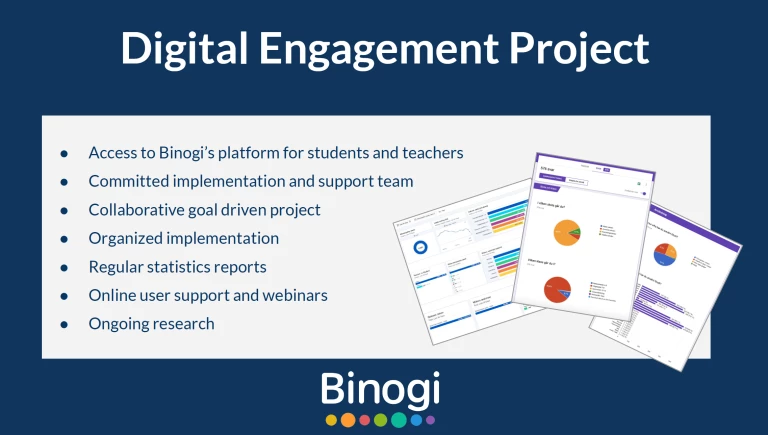 Talks with Binogi and Dr. Jim Cummins
In 2018, Jim Cummins met with Binogi to discuss a number of relevant factors for multilingual learners including language & identity, and language complexity in curricula. Enjoy this short video about why Binogi is an effective digital learning platform.